Some Returning Faces: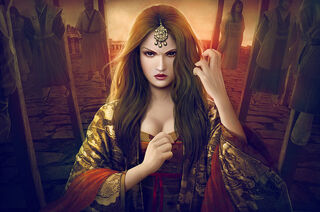 Otomo Sadako- Appointed Negotiator by the Emperor (Otomo Daimyo Hatamoto, 7.5)
Otomo Sadako is an austere and intimidating woman. She has served as the chief advisor to the Otomo Daimyo since the beginning of the 'imbalance.' She is known widely throughout the court as constantly advising in favor of a measured approach to the issue with the Hawk. Her widely known stance in favor of neutrality led to her appointment over this important mission. She is a well-connected woman who has few rivals (…left in the capital). She is well-trained in many of the finer arts of debate, oratory, and sadane. She gets the final say in any official matter that need be negotiated with the Imperials. Those who attempt to subvert her attempts to minimize complications, or discreetly attempt to avoid her gaze will find that she is not easily avoided and her vengeance cannot be extinguished without price.
(Sadako may not be taken as an Ally.)
----
Seppun Haruka- Commander of the 3rd Imperial Legion (Rikugunshokan, 7.0)
Seppun Haruka is an exceptional young woman and younger sister of the Seppun Daimyo. While much of her training was done in the school of her family, Haruka also travelled throughout the Empire as a child to partake in training from several private sensei from each of the great clans. She rose through the ranks of the Imperial Legions at an impressive rate, increased by the misfortune of the recent past. Haruka is a serious and focused woman. She has a mind for strategy and logistics but also maintains a high sense of personal honor and direction. She has been known to be quite vocal in her disdain for any philosophical talk that threatens the peace of the Empire. She is trusted by many, but trusts few in return. She volunteered herself to be the court's military liaison to the battle, feeling that only she could correct the problems that were sure to emerge in a conflict of such importance.
(Haruka may be taken as an Influence 4, Devotion 1 Ally with justification, or as a Devotion 2 Ally by members of the Imperial Legions and/or Seppun family... with proper justification.)
----
Miya Sadaie- Imperial Kurodo (Miya Daimyo Karō, 5.5)
Miya Sadaie has been appointed by the Emperor to attend the festival and officiate all competitions of goodwill. Sadaie is known for being a master of games in the capital. His exploits in the court's kemari tournaments are well-known by anyone who has an interest in such things. He is well versed on the current sumo scene, and has recorded many of the most important matches in recent days. He is a generally approachable and kind individual. He speaks with clarity and purpose, being trained in the school of his family and having spent several years as an Imperial herald in his younger days. Sadaie is known to have a great amount of interest in the philosophy of the Five Rings and pays special attention to any news related to violence that has emerged during the past several years. While his views are not widely known, Gorinno is rumored to have spent time in the capital discussing the philosophy personally with the Miya official.
(Sadaie may be taken as an Influence 2, Devotion 1 or 2 Ally by all members of the Hawk clan, or Ronin characters with proper justification.)
----
Otomo Nachi- Imperial Matchmaker (Imperial Nakodo, 5.5)
Otomo Nachi is a newly appointed Nakodo. She spent much of her career in the various courts of the empire. She is known for being a quiet and well-mannered woman. There have been very few rumors of her or her exploits until very recently. Many were surprised at her sudden rise to an important position, but anyone who deals with her personally will soon find she is quite suited to the role. Nachi was married at a young age and already has two children in school who are excelling in their studies. She has been sent to primarily begin looking for potential spouses for Bayushi Mashiko, but her attention is also drawn to any who may show potential in this battle or the festival. She is known to be an excellent musician and conversationalist.
(Otomo Nachi may not be taken as an Ally.)
----
Kitsune Sayuri- Minor Clan Ambassador (Kitsune Daimyo Karo, 5.0)
Kitsune (nee Asako) Sayuri was born and grew up in the City of Tears. Her mother was a renown historian and diplomat from the Asako family and her father a Fire Tensai with a personality that matched his elemental abilities. She was admitted into the Isawa Shugenja School and found a measure of success in both Air and Water elements. Unlike her father however, she chose to focus her talents on the less martial uses for the kami. She married into the Fox Clan after the events of the Shiro Kuni game. She is a renown historian and one of the caretakers of the Fox Clan's legendary library.
Sayuri's appearance is quite appealing, she has all the correct proportions to make her highly desirable. If one ran into her in a snow storm and she was wearing white, she may very well be mistaken for a Yuki Onna. She has an alabaster complexion and is often physically cold to the touch. She enjoys ice and manipulating the water kami in it to create unique art. She has spent the last year in Fox Lands and the Imperial capital acting as a voice for the Fox clan towards the other Minor Clans and building a consensus concerning the Hawk issue. She was the individual responsible for the idea that commissioned the Hawk to join in the retaking of Shiro Kuni, but is also known as a friend to the Crane and Scorpion as a result of her reputation as one of the most vocal and visible opponents to the Five Ring Philosophy.
(Kitsune Sayuri may be taken as an Influence 2, Devotion 1 Ally by Minor Clan, Crane, Scorpion, and Phoenix PCs or characters who are members of the Kolat Conspiracy.)